The General Insurance Association of Singapore's Sustainable Insurance Masterclass
SINGAPORE, 7 February 2018 – The General Insurance Association of Singapore (GIA) today organised the industry's first Sustainable Insurance Masterclass in its effort to gather industry leaders to discuss the latest developments, as well as raise awareness and understanding for a more sustainable corporate environment in Singapore.
In this half-day programme, several industry experts shed key insights into various areas, including providing an update of sustainability efforts in Singapore, innovative technology advances within the general insurance industry, as well as best practices in the consumer goods sector.
Key experts who spoke included:
Ms Isabella Loh, Chairman, Singapore Environment Council;
Ms Eu-Lin Fang, Sustainability & Climate Change Leader, PwC Singapore;
Mr Tng Ah Yiam, Deputy Chief Executive Officer and Head of Products, NTUC Fairprice Co-operative; and
Ms Elean Chin, Deputy Director & Head of Financial Markets Development Department, Monetary Authority of Singapore (MAS).
Other notable industry speakers were Ms Claudia Salem, CEO of AIG Singapore and Head of Country Operations for Southeast Asia and GIA Management Committee Member who gave the opening address; and Ms Diane Yap, Head of Marketing at AXA Insurance Singapore.
Claudia Salem's opening address:
Good morning everyone. I am delighted to be opening the GIA's first Sustainable Insurance Masterclass. The GIA and its member companies, together with the Monetary Authority of Singapore, have established this event to promote a progressive and sustainable insurance industry. We want to use this forum to share our own experiences and work together to tackle the challenges of tomorrow effectively.
We constructed the agenda today to provide all of you, through the insights of our guest speakers, with a solid overview of sustainability.
What it means in general, as defined by the United Nations Sustainable Development Goals that you can see behind me and applicable to all industries
What is means in Singapore, bearing in mind that 2018 was declared by the government as 'the year of Climate Action'
And what it means for the insurance industry.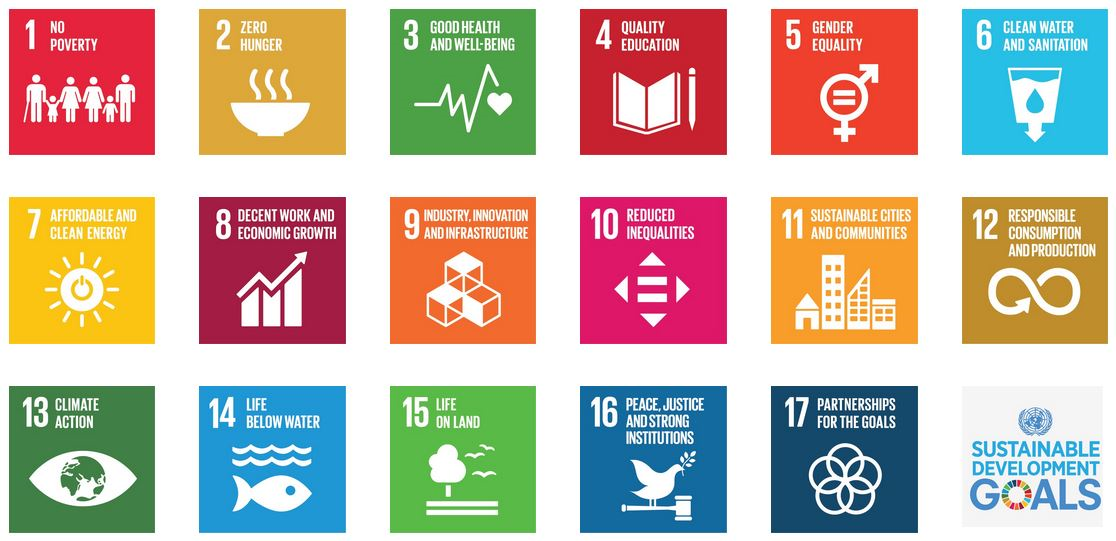 Source: http://www.un.org/sustainabledevelopment/sustainable-development-goals/
My view is that we as insurers are only able to call ourselves modern companies if we are active contributors to our communities. This is firmly aligned to the UN 4 principles for sustainable insurance that were adopted by 55 insurers and reinsurers and 47 supporting organizations (insurance supervisors and regulators).
Embedding sustainable practices into our decision making. This includes company strategy, risk management, underwriting, product and service development, sales and marketing and investment management practices.
Working with our clients and partners to raise awareness of ESG (environmental, social, and governance) issues. Examples are helping clients and suppliers use ESG tools effectively
Working together with government and regulators to promote actions across society through open dialogue, integrated risk management frameworks, and promoting public awareness of ESG issues.
And demonstrating accountability and transparency in regularly disclosing our progress against those principle. In short monitoring, measuring, and reporting.
I would like to extend a warm welcome to our guest speakers today who are leading thinkers on the topic of sustainability. Over the course of the morning, they will share their insights into what they and their organisations are doing in the area of sustainability, and what we can learn from them.
Following their sessions we will then move into a panel discussion when we will have the opportunity to discuss a wide range of sustainability related issues, and how we can all work together to make a positive change. You will also get the opportunity to ask any questions you have through the pigeonhole tool as discussed.
I hope you find the agenda thought provoking and also that you come out of today's session with some tangible and actionable ideas that you can take back to your organizations to help make the industry, and Singapore more sustainable.
At AIG, we believe that it is our responsibility to be a good corporate citizen, to be ethical in how we operate our business and to always try to do the right thing.
We have a strong legacy of sustainability globally and we are building on this solid foundation here in Singapore - making real progress towards ensuring that sustainability is a fundamental part of the way we conduct our business.
We have been seriously looking at how we operate, and how we can lead by example. There are many ways that we can do this. And there are many concerns in the modern world, and in modern business that need to be addressed to ensure a sustainable operation.
What we all need to do is take a long hard look at our businesses, our operations, our footprint, and from there decide how we can each make a difference.
For AIG, and indeed for the insurance industry as a whole, a serious issue we have is the amount of paper we use when issuing policies.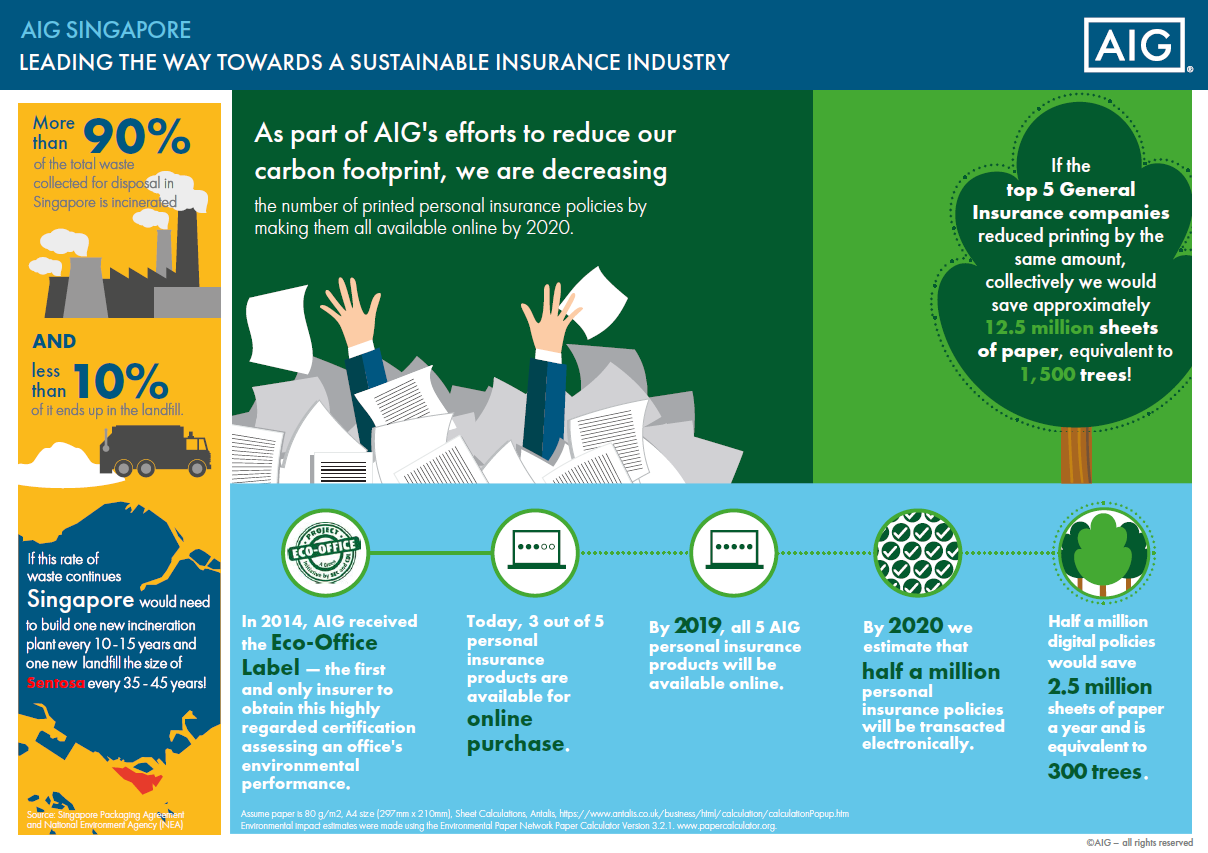 Click to view the AIG Singapore Sustainable Insurance Industry Infographic.
With the current rate of waste in Singapore, we will need a new incineration plant every 10 – 15 years and create a new landfill site the size of Sentosa every 35 – 45 years!
For our part, we estimate that by 2020 half a million personal lines policies will be transacted electronically. This will save:
2.5 million sheets of paper per year,
Or 300 trees
Whilst these numbers may sound impressive, what is more impressive is that if all of the top 5 general insurers did the same, then together we could save:
Approximately 12.5m sheets of paper per year,
Or 1,500 trees
Paper policies are a legacy issue for insurance. And we have a duty to educate consumers in why they should embrace digital policies.
Imagine if the whole industry was to commit to moving away from paper to digital policies and if customers here could cross the divide and do away with paper for their auto or home cover, or forgo taking a paper travel policy with them on holiday – instead embracing an App – which has so many advantages beyond simply saving paper. Policies are always updated, always with you, simple to amend or update.
Asia, and Singapore, are, today, digital first societies. Mobile penetration in Singapore is up at around 150%. People here are used to living through their mobiles. Social media, gaming, dating, shopping, the rise in smart technology making every element of our lives more connected. So why should insurance be any different? The platform is there. The appetite is there. And the benefit to customers is clear.
So for us, all of us, the opportunity is there. I genuinely see a future where no policies are printed – and I believe that Singapore can be the first to realise this ambition.
But, we cannot do this alone.
At AIG, one of the major stumbling blocks that we are experiencing is customers' reticence to move away from paper policies.
I recently announced, internally, a new prioritized road map for our strategy through 2018 which is firmly built around, "Helping people prepare for a changing world".  As the world modernizes, insurance has to be at the forefront of that modernization – leading by example and creating new products to protect against evolving risk. And sustainability is no exception.
Sustainability is being embedded at all levels of our business and support what we are calling the 3 Cs. Our 3 core stakeholder groups. Customers, Communities and Colleagues.
We, as an industry have to be able to demonstrate the value of going digital to our Customers if they are to embrace it. We have to be able to effectively tell them what is in it for them and why they should care. This is something that we can achieve. But it needs regulation. It needs a broad base of support. We need to find a way to incentivize digitization. It is not going to work for absolutely everyone, but, with the support of the regulators here in Singapore, and the entire insurance industry we can make a real difference.
Furthermore, we must lead and drive change within our Communities to deepen understanding, minimize environmental impact and instil a sense of pride in leading sustainable lives.
As I have already mentioned, business and insurance has to lead by example. I am therefore very proud of the work that AIG has been doing with the SEC to date. We partnered with them in 2014 as part of their Eco-Office program. Utilizing their framework to help us define and measure our sustainability as a work place. This framework not only provides us with a set of guidelines for how we can be more sustainable in our day to day operations, but it also helps us to manage costs and provides an initiative for our Colleagues to get behind, and take pride in. To date, we are the only insurance company participating in this initiative, and I would like to this opportunity to urge everyone here to consider taking part.
It is not just the big things either. Each and every person within an organization has a part to play. For my part, it is a bit of a running joke within AIG that I am never seen without my iPad. It is my lifeline. And whilst the saving is not seismic, if anyone were to adopt a similar approach, imagine what we could save in printing alone. I need to be a bit careful though – or everyone within AIG is going to be expecting a new tablet…
This is only the beginning.
Sustainability is so much more than simply reducing the amount of paper or even energy that we use. It is about creating a future that is sustainable for the next generation, and the generations beyond that.
And insurance is not just able to support this vision, it is the enabler that will help societies to adapt, that can help accelerate change.
It won't be a surprise to learn that I view insurance as quintessential to sustainability.
Insurance empowers businesses and individuals to consistently take on new and measured risks with the assurance that they're protected against the unknown.
Insurance companies also have an obligation to use the data that we have to develop products that incentivize sustainable operations and lifestyles.
We are in a unique position, and I hope that from the speakers you have heard already, and from the panel discussion you are about to hear, you are inspired to take sustainability to the heart of your organizations, and commit to a sustainable future for Singapore.